Since first being developed in 1951, barcodes and their supporting systems have evolved to the point of being ubiquitous. However, barcodes, as we know them, are about to experience a revolutionary leap forward in technology with the Digimarc Barcode. A leap in technology that Jet Letter is proud to be a part of.
The Digimarc Barcode is the first "imperceptible" barcode available for commercial use. It can be printed on labels, entire mailers, several sides of a container, plastic bags and virtually any media or object.
It performs the same functions of a typical barcode but (in many applications) is imperceptible to the human eye. Having been invented by an astronomer, it uses tiny dots to encode data. This unique technology has been incorporated into Jet Letter's VDP application for the very rapid printing of Digimarc Barcode featuring variable data.
Shown below is an obvious example, in monochrome, of Digimarc Barcode along with the stacked GS1 barcode it replaces.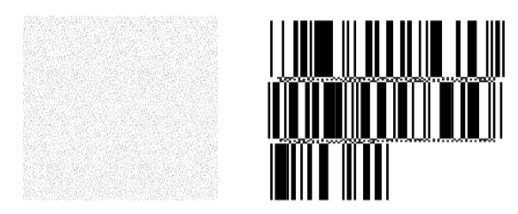 However, when applied to substrates with a background in color, the dot colors are chosen to be imperceptible to most people but readable by machines.
There are, of course, other technologies that deliver imperceptible methods for identifying items include UV and IFRD. However, their use requires considerably more expense and are not in the same category of "commercial use" as the standard barcode.
Below is an example using the Digimarc "data carrier" on a clamshell label for produce.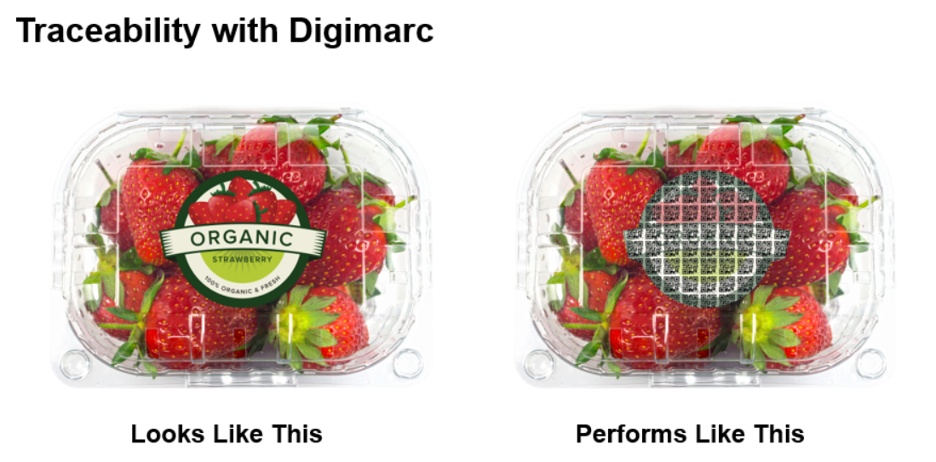 The image on the left is what a person sees; on the right is what a scanner sees.
As the FDA regulations for "Track and Trace" of food products become more critical (FDA Food Safety Modernization Act, GS1 regulations), and the introduction of the "New Era of Smarter Food Safety" begins, this solution will bring very significant benefit to growers. In addition to complying with federal and state regulations regarding track and trace, the same solution can drastically reduce costs for product recalls and spoilage.
One key element here is that there is no obtrusive (as in distracting or unattractive) linear or 2D bar code to spoil the artwork, yet the same information (within limits) can be delivered. Another is that because the whole label can be covered with the encoded images, the person scanning the clamshell at checkout (or elsewhere) does not 1) have to be a "marksman," scanning any portion of the labels works fine, 2) re-orient the carton to expose the barcode. That same concept applies to damaged labels. So long as a small portion of the label is undamaged, the scan will be successful.
Of course, all the comments above apply to scanning shelves for inventory, packing and unpacking cartons or loading and unloading trucks. And this while using very little ink and not causing the carton to turn black.
But perhaps as importantly, the Digimarc data carrier can be used for many diverse applications
It can be printed on all sorts of surfaces such as cloth, plastic bags or even applied by etching or embossing.
While in the produce world, Digimarc Barcode is used for traceability applications, similar applications support the manufacture and distribution of most anything. Auto parts manufacturers, for example, are using it on cartons to prevent counterfeiting.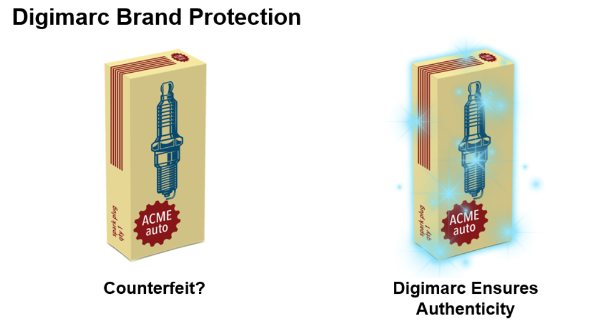 Combined with a variable data printing solution, anything, and everything that is imaged with a digital press can be personalized. To maximize the value of their solution, Digimarc sought out a VDP solution provider that could deliver the speed and flexibility they needed for their product. Jet Letter delivered an interface that did even more by also providing a robust composition engine. PSL Page Builder Pro was found to be a highly flexible and scalable variable data printing solution for a variety of applications. Providing custom solutions to PSL users is not something new at Jet Letter.
Digimarc is now an authorized value-added reseller of Jet Letter's PSL software delivering value to their clients as well as simplifying their integration and sales process.
"Our customers print and mail millions of documents daily using various barcodes regularly. The Digimarc Barcode, due to its impressive robustness and imperceptibility, will replace the use of many standard barcodes and, more importantly, will open exciting new markets for our clients," said Tom Crooks, President, Jet Letter Corporation
How can technology from Jet Letter help you lead the way to growth and new opportunities? Call us today to find out.